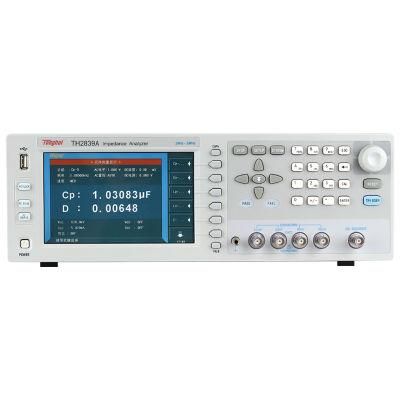 Th2839A Impedance Meter Components Tester 20Hz ~ 5MHz
Changzhou Chuangkai Electronic Co., Ltd.
After-sales Service:Lifelong
Function:Measurement of Lcr
Display:7-Inch TFT LCD Display 800xrgbx600
Usage:Electric Component Tester, Gas Sensor Tester, Catalytic Element Tester, Lightning Protection Device Tester, Lcr Meter
Type:Lcr Meter
Environment:Room Temperature
Model NO.:TH2839A
Warranty:With Warranty
Power Source:DC 100V-300V
Weight:〉10Kg
Installation:Direct Connected
Customized:Customized
Frequency:20Hz-5MHz
Graph Sweep Parameters:Freq, Acv, Acv,I, Dcv,I, DC Voltage Source
Product Name:Th2839A Impedance Meter Components Tester
Highest Accuracy:1kHz: 0.05% 1MHz: 0.05% 2MHz: 0.1% 5MHz: 0.5% 10mh
Warm-up Time:60 Minutes
Input Voltage:Optional 100-120VAC,198-242VAC, 47-63Hz
Test Terminal Configuration:Four-Terminal Pair
Typical Measurement Time (Speed):Fast: 7.7ms,Time Medium: 120ms,Time Slow: 230ms,Ti
Output Impedance:100 Ohm
Transport Package:Carton
Specification:55x54x33cm
Trademark:CKT
Origin:China
HS Code:9030339000
Production Capacity:2000 Sets Per Month
Overview
Product Description
Model
TH2839A
Display
7-inch TFT LCD display 800XRGBX600
AC Test parameters
Cp/Cs,Lp/Ls,Rp/Rs,|Z|,|Y|,R,X,G,B,θ,D,Q,Vac,Iac
DC Test parameters
Rdc,Vdc,Idc
Test Frequency
Range
20Hz - 5MHz
Highest resolution
1mHz
Test level
AC voltage
20Hz - 2MHz:5mV - 2Vrms2MHz - 5MHz:5mV - 1Vrms
Resolution
100uV
AC current
20Hz - 2MHz:50uA - 20mArms2MHz - 5MHz:50uA - 10mArms
Resolution
1uA
DC Voltage
100mV - 2V
Resolution
100uV
DC bias
Voltage
0V - ± 40V
Resolution
100uV
Current
0mA - ± 100mA
Resolution
1uA
DC voltage source
Voltage range
-10V - 10V
Current range
-45mA - +45mA
Output impedance
100Ω
Test terminal configuration
Four-terminal pair
Output impedance
100Ω
Typical measurement time(speed)
Fast: 7.7ms/timeMedium: 120ms/timeSlow: 230ms/time
Highest accuracy


1kHz: 0.05%1MHz: 0.05%2MHz: 0.1%5MHz: 0.5%
Cable length
0, 1, 2, 4 meters (4 meter cable is optional)
Graph sweep
Parameters
FREQ, ACV, ACV/I, DCV/I, DC voltage source
Type
Logarithm, linearity
Sweep points
51, 101, 201, 401 or 801
Equivalent circuit analysis
Purchase PC software
Interface
USB HOST, USB DEVICE, LAN, HANDLER, RS232C, SCANNER, Temperature Input sensor Optional: GPIB
Warm-up time
60 minutes
Input voltage
Optional 100-120VAC/198-242VAC, 47-63Hz
Power consumption
80VA
Dimension(WxHxD)mm3
400 x 132 x 425
Weight
15kg
Detailed Photos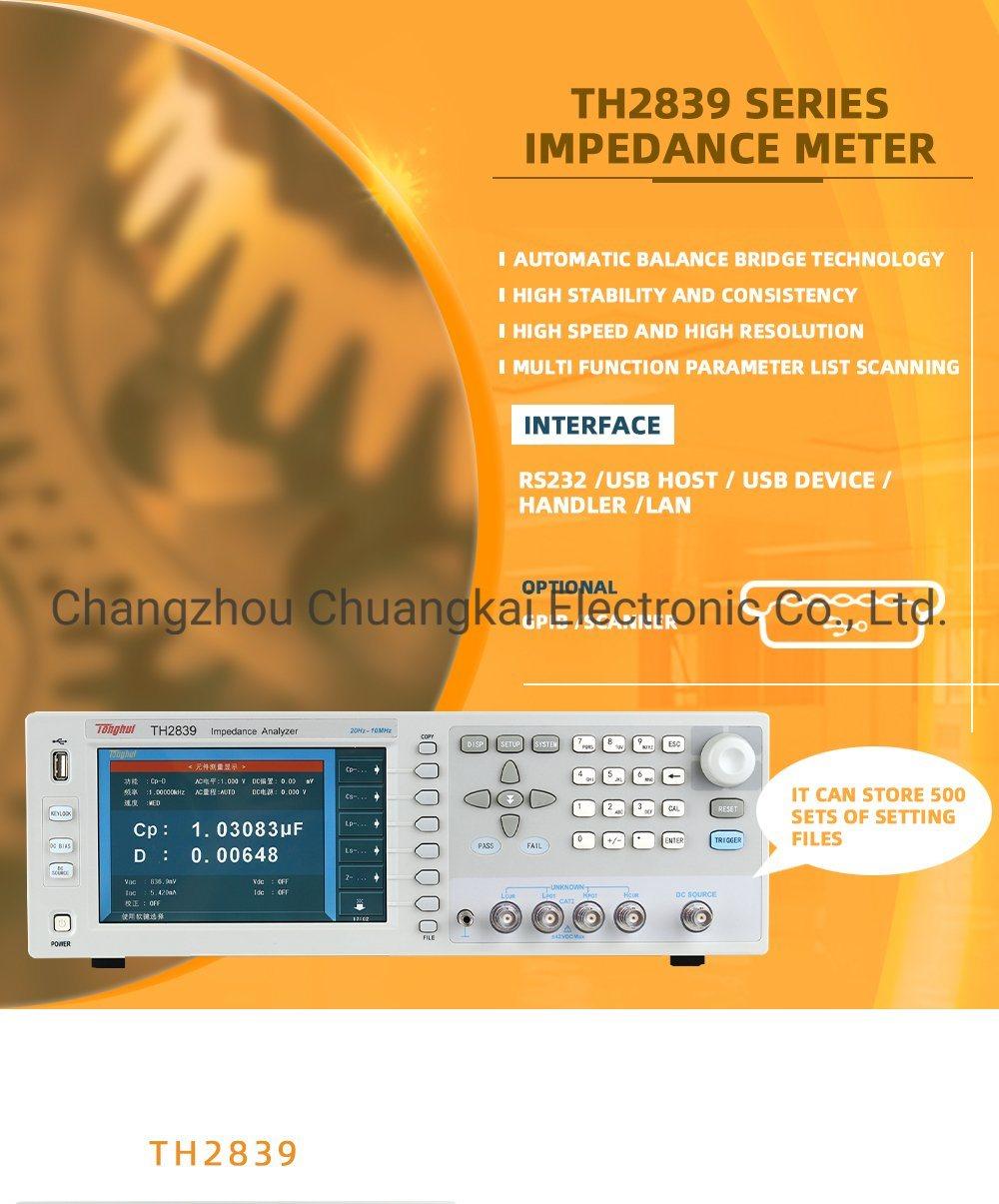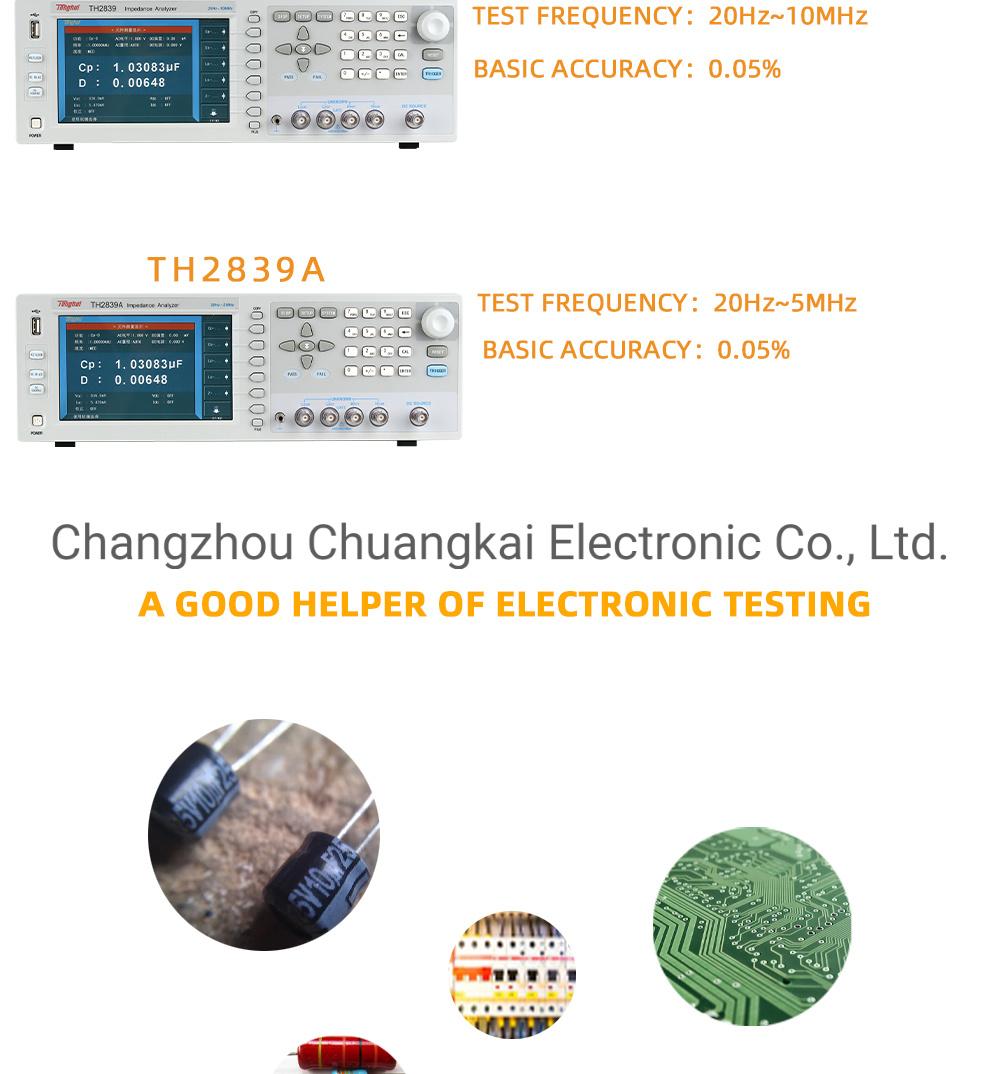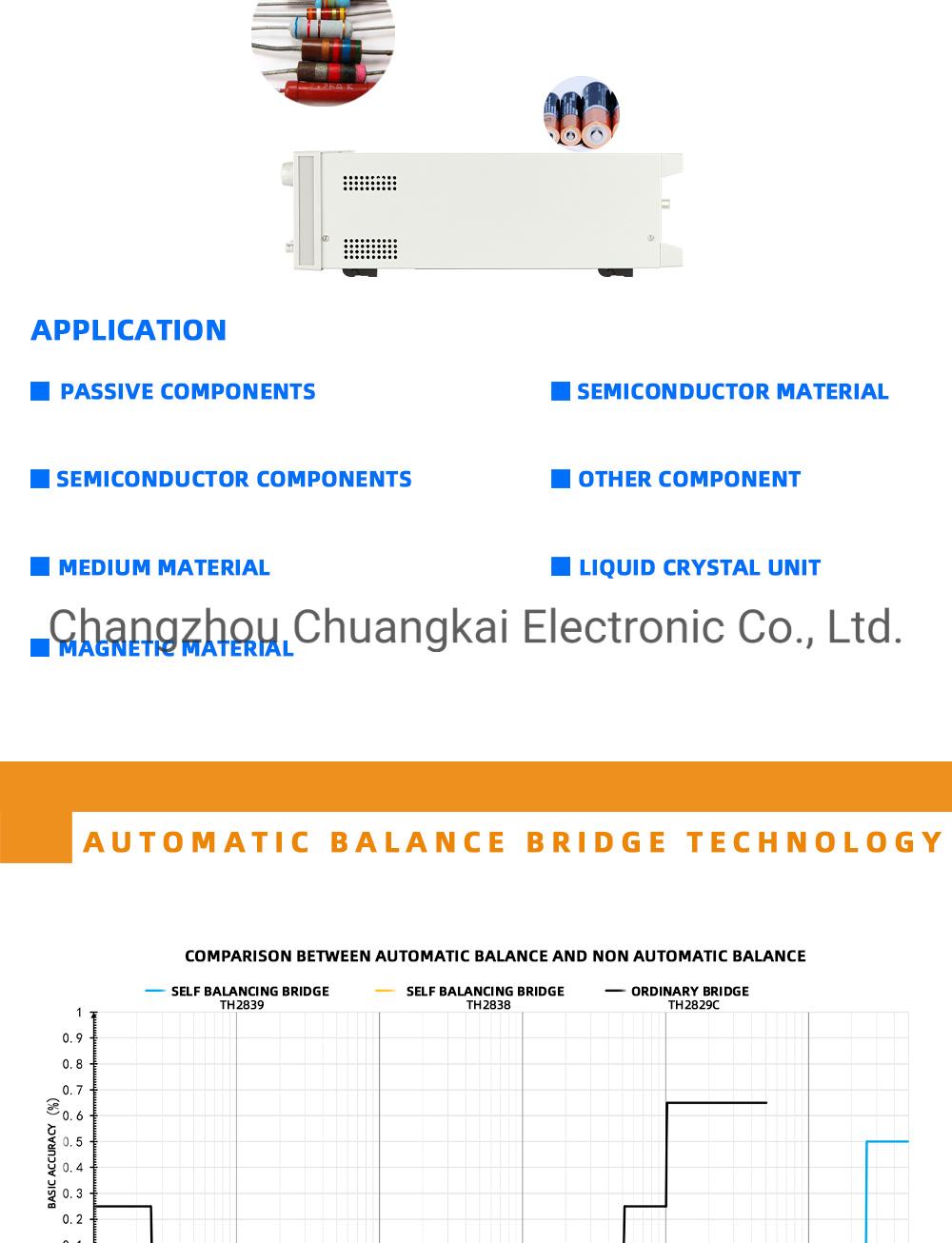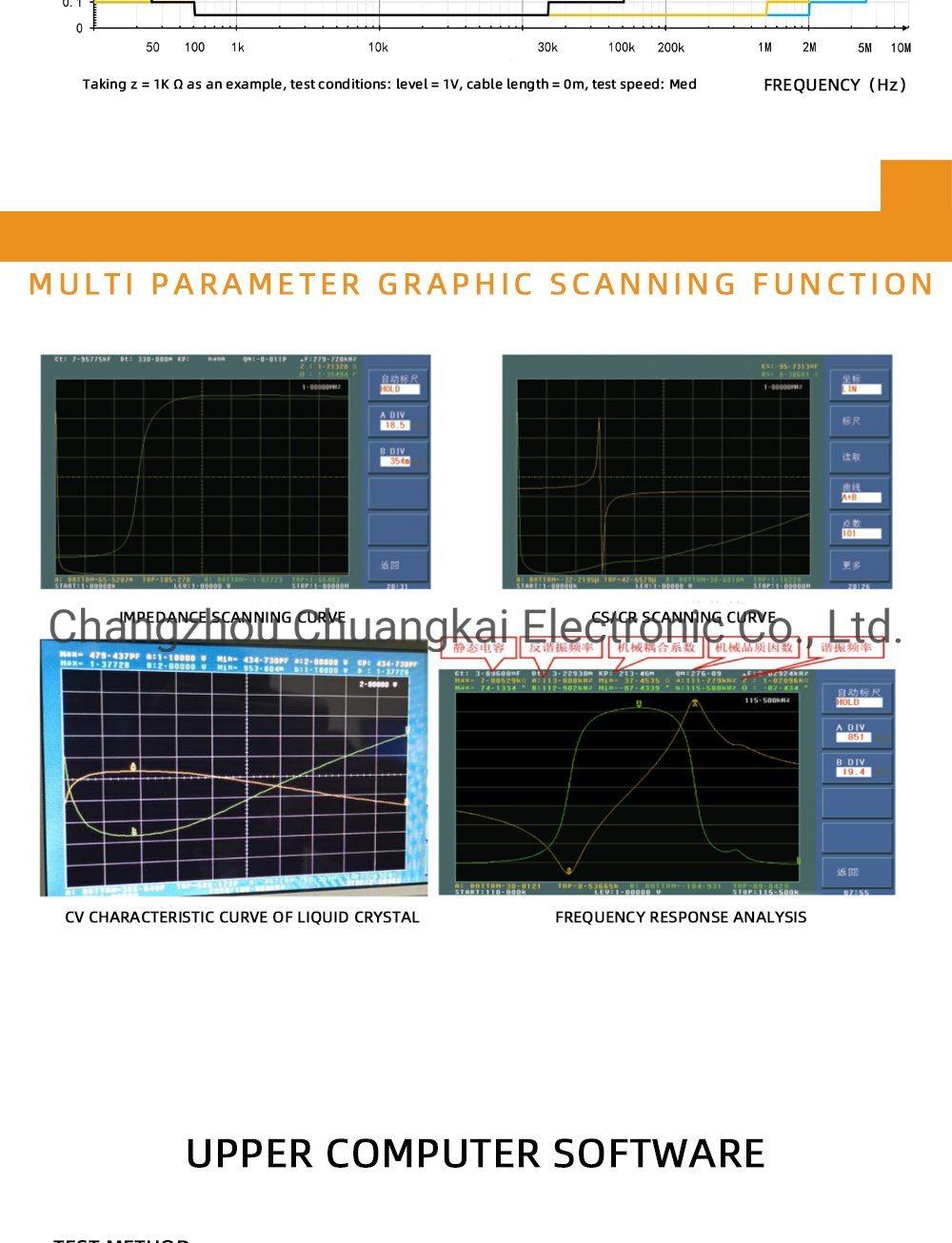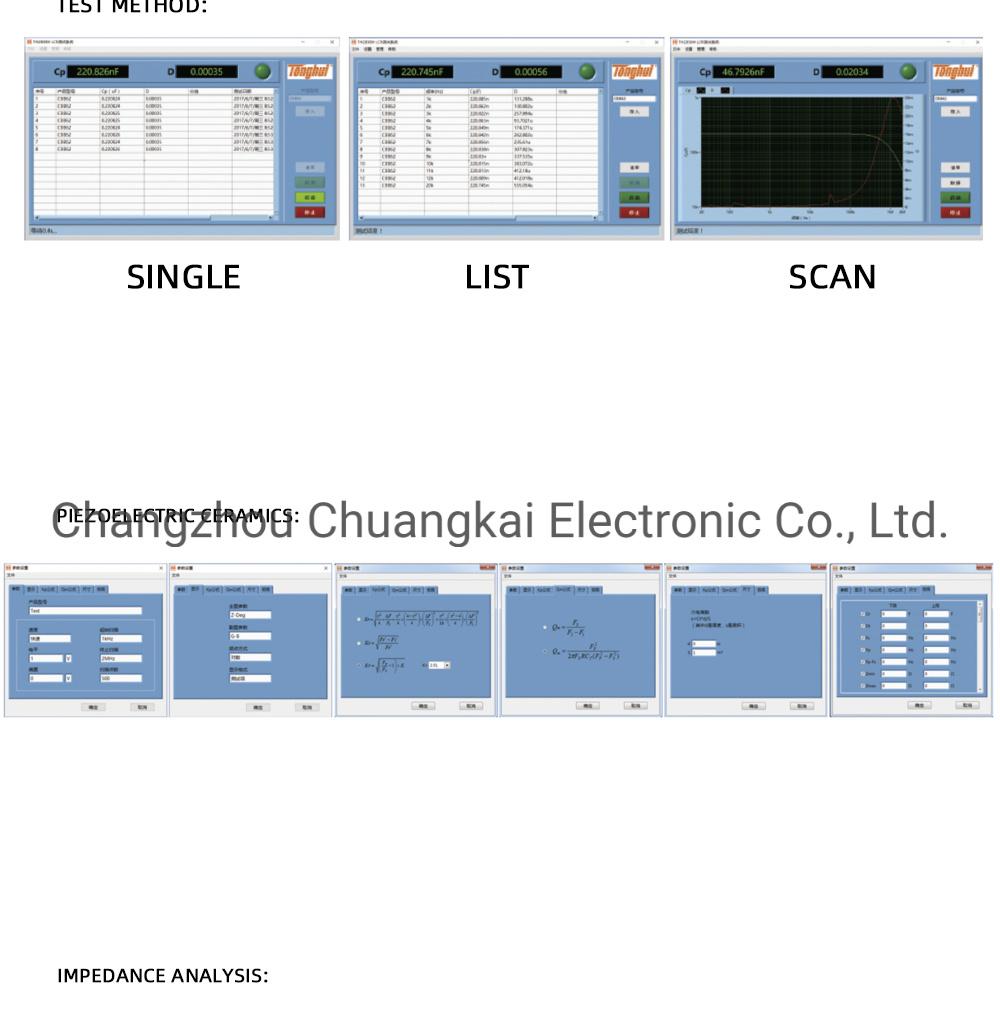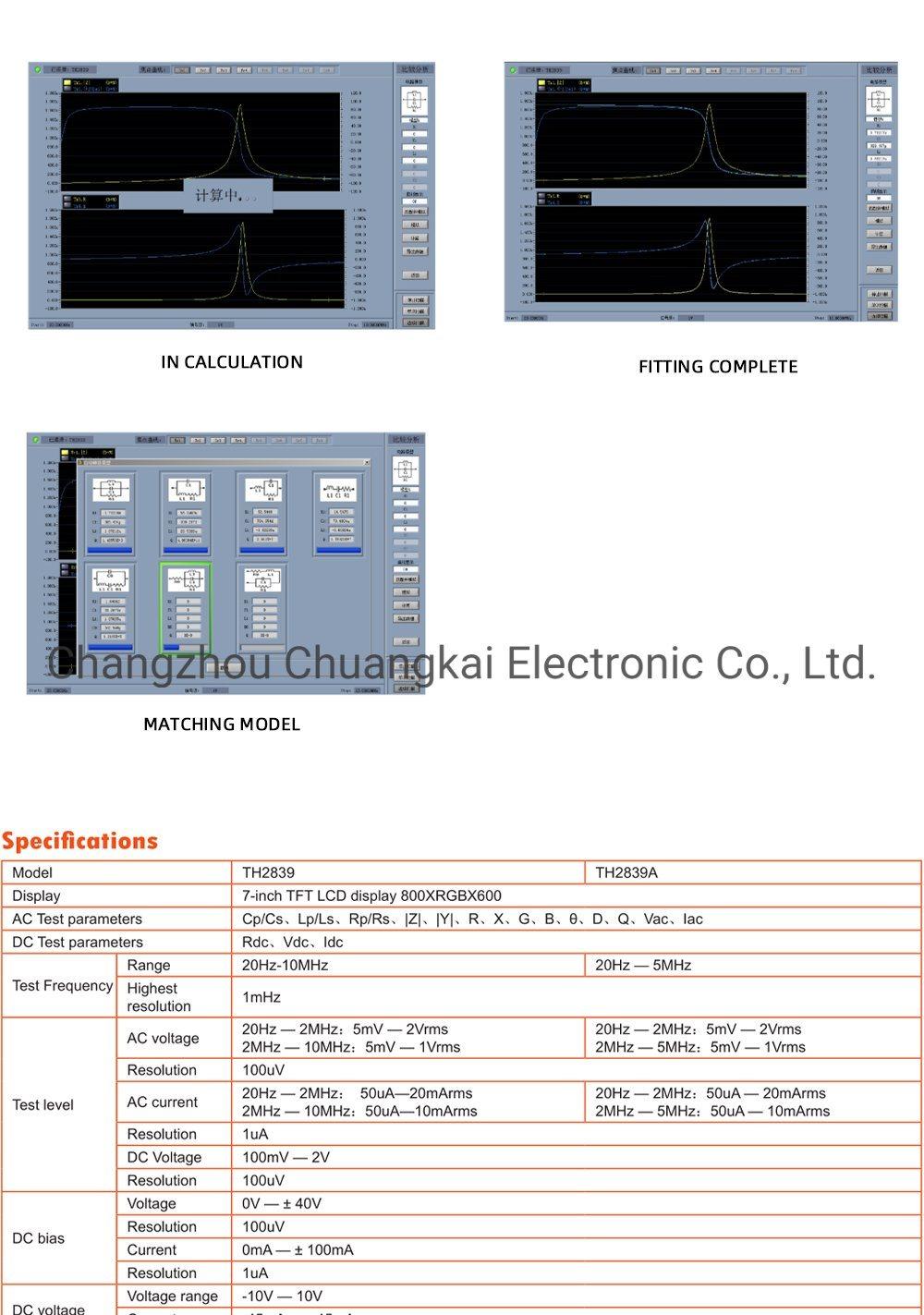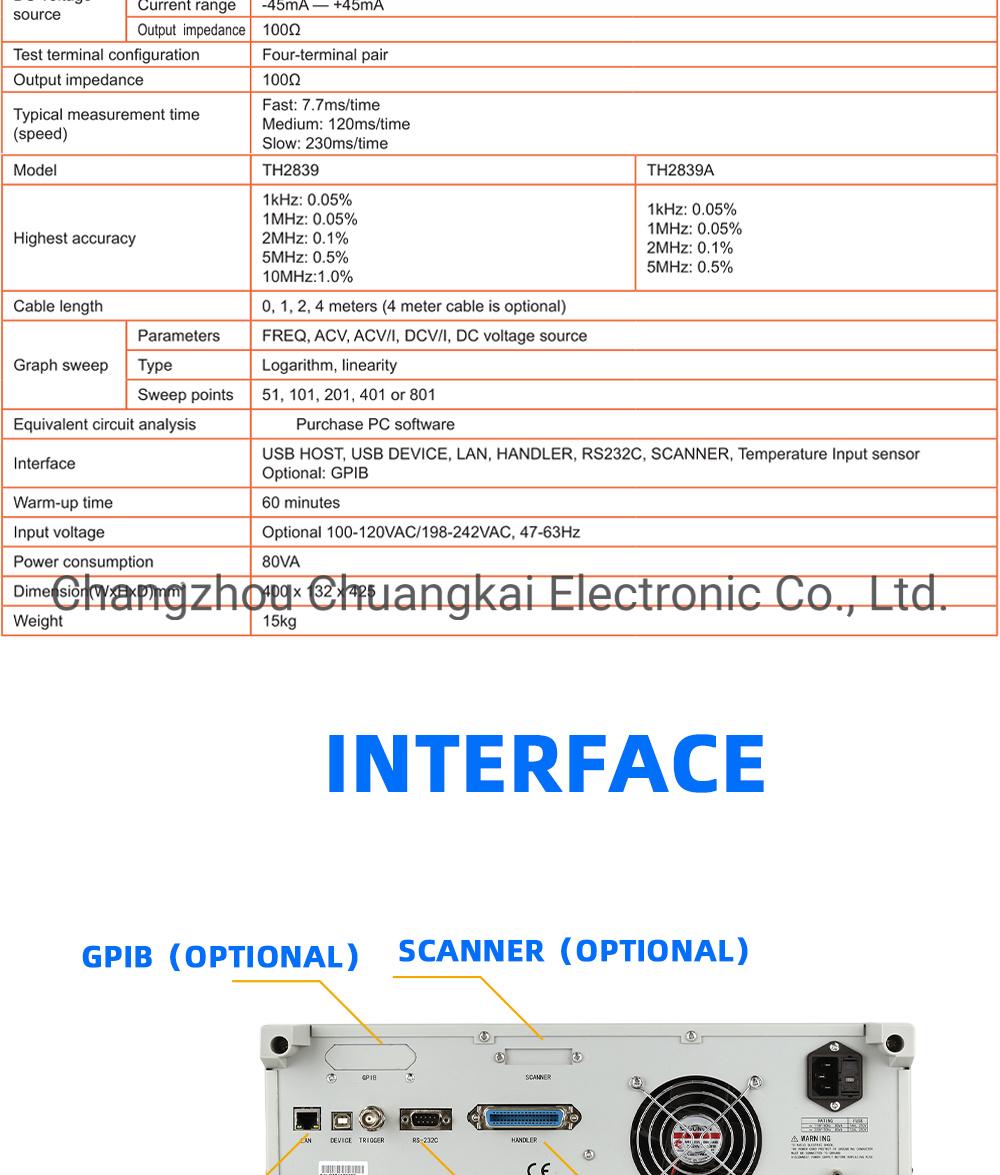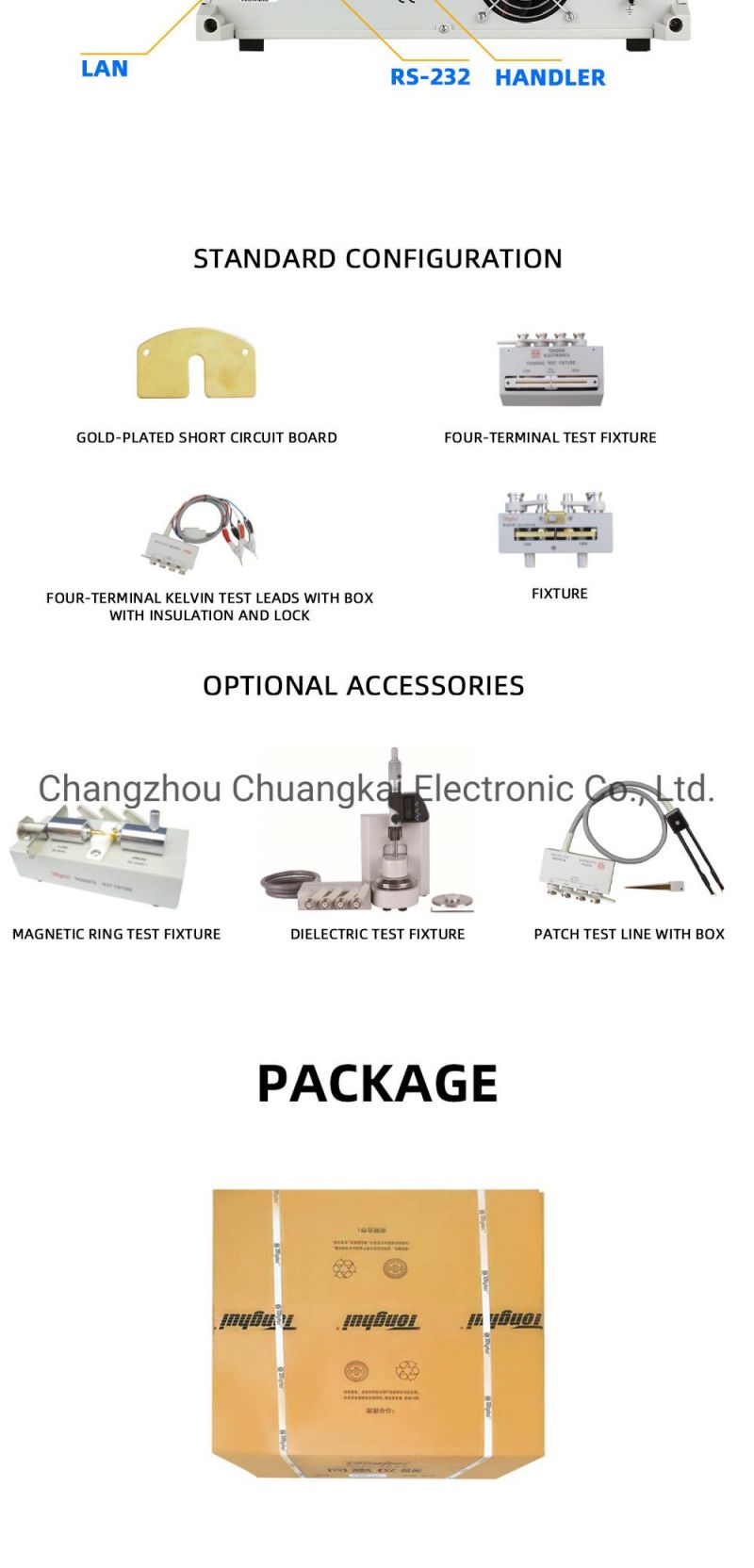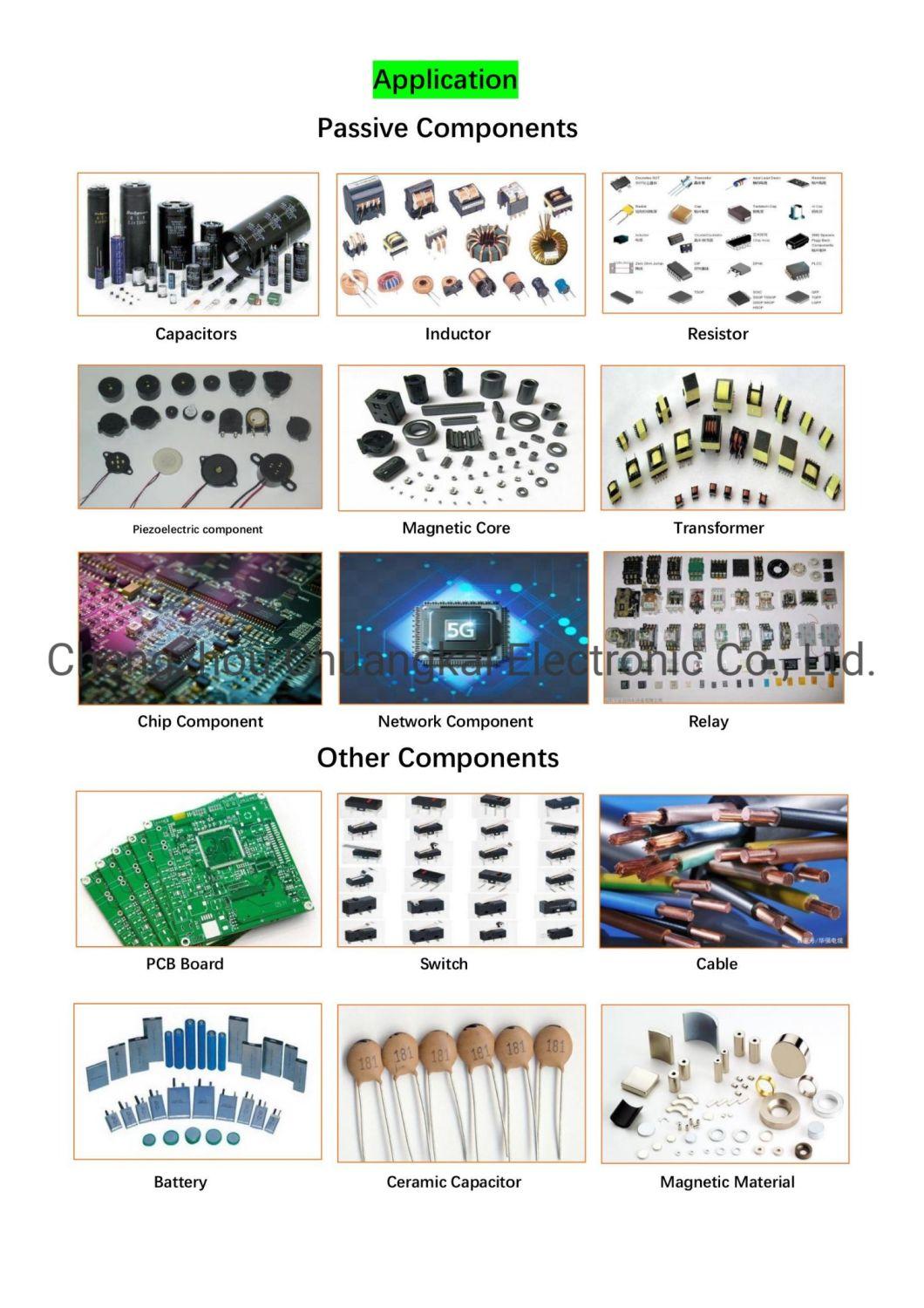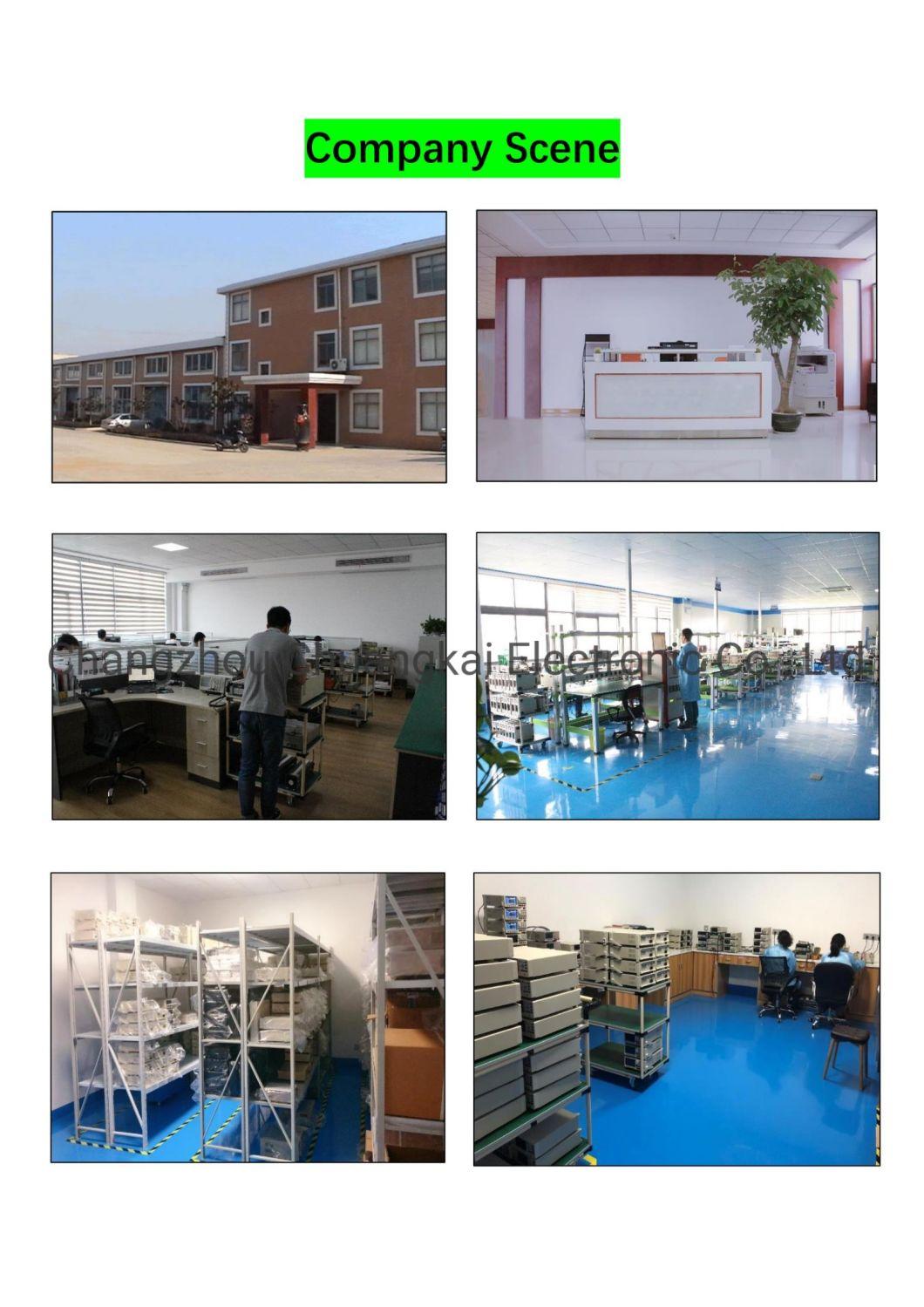 Packaging & Shipping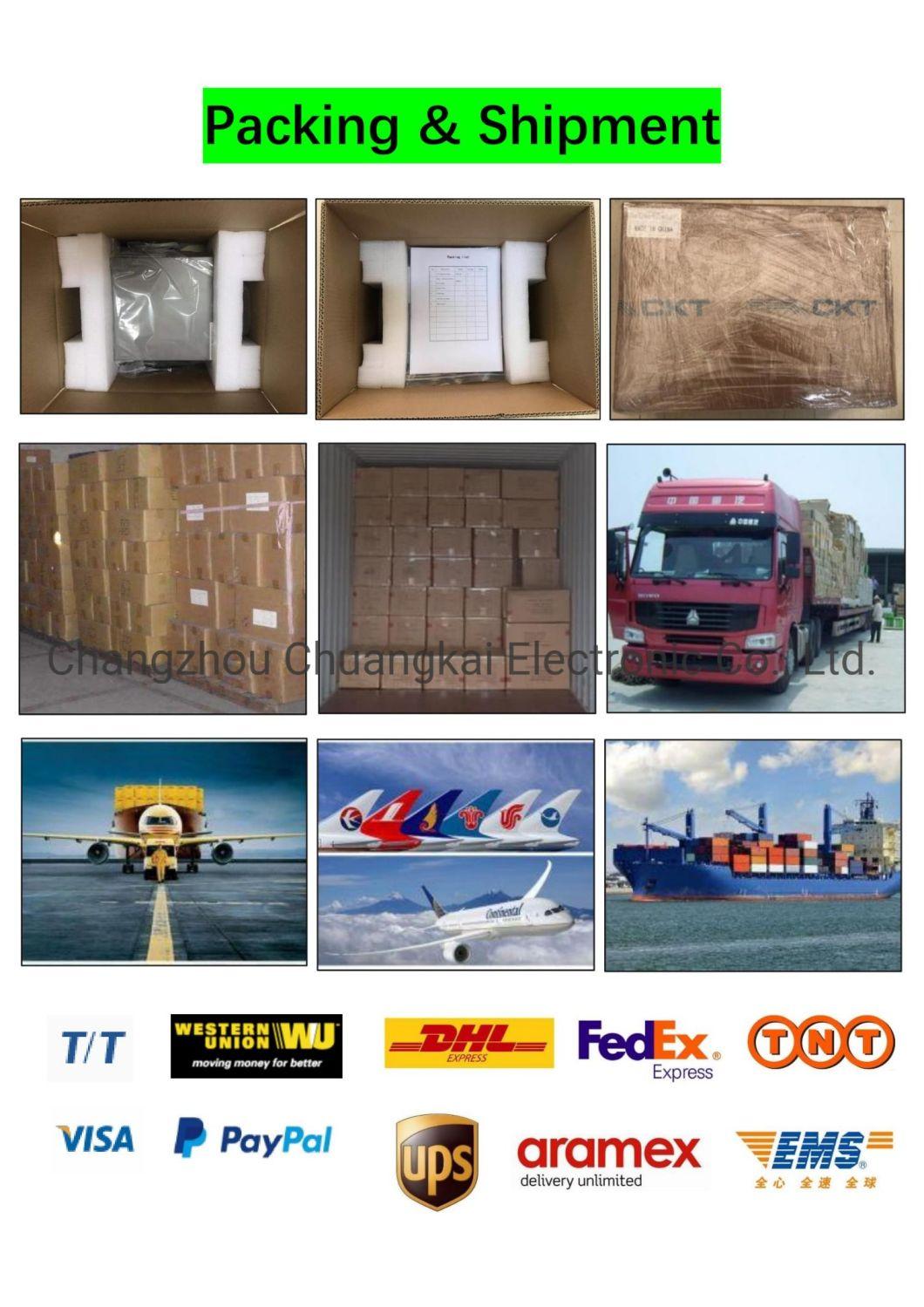 Company Profile

Chuangkai Electronic Co., Ltd is leading company specialized in producing, developing & selling various types of measuring instruments and testing equipment, such as temperature data logger, LCR meter, DC resistance tester (micro ohm meter), digital power meter, power supply, transformer tester, battery tester, programmable DC electronic load, charger, temperature controller, tachometer, high voltage signal-amplifier, power amplifier, etc.

FAQ:
Q. How is your company's product after-sales service system?
A. The product warranty period is 12 months, we can provide lifetime maintenance. We have professional pre-sales and after-sales teams that can respond to you within 24 hours to resolve technical issues. We provide one-to-one after-sales service.

Q: Can you customize it?
A: Yes, we accept customization according to customer's specific requirements.

Q. How long is your lead time? If I want to customize instruments, how long will it take?
A. When order quantity is 1-10 units, we have ready stock goods, we can ship out within 3-5 working days after receipt of deposit; products required new production of common materials, usually the lead time is about 10-15 days; products requiring new production of special and rare materials, usually the lead time is about 20-30 days.

Q. What payment method do you accept?
A. Our company accept payment method of T/T (bank transfer), Western Union, PayPal and so on.

Q. What package do you use for your products? What shipping method do you use?
A.1. Our company use standard exporting carton for packing. 2. We ship via express courier (door to door service), by air, and by sea according to customers' requirements.

For more questions, please feel free to send inquiries to us.